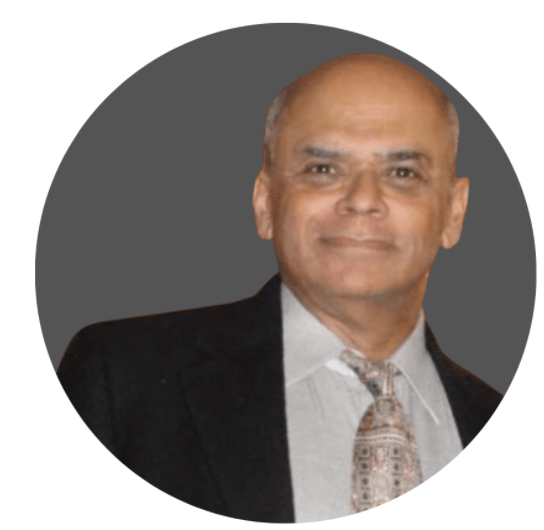 Mr. Somnath Sen
Member of Board of Directors
In 1980 Somnath Sen moved to the Bay Area immediately after graduating from Northwestern University, Illinois. He was warmly welcomed by the seniors of the Bay Area and enfolded in the then tightly knit Bengali community. He was the President of Bay Area Prabasi in 1981-82. As an affable member Somnath continued to volunteer for many years in this organization and witnessed the Bengali population grow through the last few decades. He maintains a strong community connection with seniors and new younger families in Bay Area Prabasi. He continues his extensive career in the semiconductor industry. Being an avid golfer, – tennis, swimming, hiking & biking are his other hobbies, which help him stay connected to friends, besides his culinary talent.
Mr. Manash Chaudhuri
Member of the Board of Directors
Manash Chaudhuri has been a Serial Entrepreneur with more than 25 years of experience working on emerging technologies related to Cloud Computing and Customer Management platforms. His recent venture ConvergeHub is rated as one of the top CRMs in the world. He is quite involved in helping startups and entrepreneurs through their product development and go-to-market strategy. He loves to travel and has been involved in CSR activities related to Education in Kolkata. He holds an Electrical Engineering degree from India and has done management courses in the field of international business and finances from UC Berkeley.
He became a Prabasi member in 1999 and has always been passionate about a place that we can call home in the Bay Area.
Dr. Malavika Ghosh
Member of Board of Directors
Malavika has been an active member of the Bengali community for several decades. A lifelong prabasi herself, having been raised outside of Bengal, she can relate to the importance of having a community where the essence of one's language, culture and tradition can be realized through the process of socialization and active participation and service provided by organizations like Bay Area Prabasi. She came to the US in the early 90's as a doctoral student and moved to the Bay Area in 1997. Ever since then, she has been an involved member of Bay Area Prabasi. 
Her main goal as a member of the leadership team in Bay Area Prabasi is to work towards the exposure and inclusion of the next generation in the activities of this organization. Also as a career scientist in Biotech, she would like to utilize her knowledge and experience into bringing awareness towards the present pandemic caused by Sars-Cov2 and start a community outreach program especially for the seniors.
She has two grown children and lives in Los Gatos with her husband.
Mr. Dj Das
Member of the Board of Directors
DJ Das is a results-oriented, decisive leader who combines an entrepreneurial spirit with corporate-refined execution in services & products, marketing, business strategy planning, delivery management, and revenue optimization.
DJ is the founder & CEO of ThirdEye Data, an AI & Data services & products company. He founded ThirdEye about 10 years ago in Silicon Valley and currently serves Fortune 500 customers with development offices in Kolkata. 
DJ is an active angel investor mainly investing in data-centric startups with numerous exits to companies like Walmart, Adobe, and Teradata among others. 
DJ is an avid AI & Data evangelist. His philanthropy activities include a meet-up group named "Big Data Cloud" that he founded about 10 years ago that currently has 4600+ members.
Mr. Saikat Paul
Member of Board of Directors
Saikat has been a Bay Area resident for the last 16 years and has over 20+ years of experience in finance, having trained as a CPA in California and CA from India. He's currently the Chief Accounting Officer and Sr Vice President at Qualys, a publicly listed cybersecurity company. He has previously worked at other leading tech companies as well as long stints with PwC in San Jose and Chennai. Apart from being involved with Prabasi, he also serves on Fremont Unified School District's Supervisors Advisory Council and manages a non-profit running an online Bengali language school. Besides enjoying time with his family, he enjoys reading, movies, playing tennis, and adda.
Saikat is looking forward to enhancing the finance process and transparency at Prabasi and helping to build it into a best-in-class philanthropic organization.
Mr. Abhijit Datta
Member of the Board of Directors
Abhijit Datta is a Sr. Architect and a Subject Matter Expert (SME) in his domain at the leading company driving the technology of GPU, Supercomputer for AI/ML/DL, and Self Driving Cars etc. He has deep ties with this community and continues to serve in different capacities.
He is often engaged in helping food drives, assisting at cultural events, leading Boy Scout groups, and coaching Lego Robotics. He successfully bridges his proud Bengali, Indian heritage with mainstream living. He has lived abroad for over three decades, holds a Master of Electrical Engineering degree from the National University of Singapore (NUS), this expertise transferred to his current work.
He along with his family has been a long-time Bay Area Prabasi member while supporting other similar local organizations, always aiming to serve the broader community. He shares Bay Area Prabasi's focused mission and leadership views. With an increasing Bengali population in the Bay Area, our community has reached a critical mass now to greatly benefit from a permanent physical address of our own. A place for meeting of the minds and spending quality time together expanding our horizon. A place where the outreach can be amplified, our ethnic identity enhanced. This is crucial for the next generation, where they can bring their peers for exchange of cultures, while secured in their own identity.