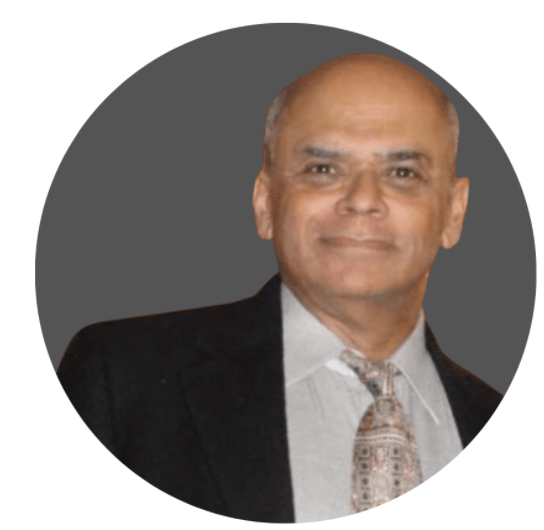 Mr. Somnath Sen
Member of Board of Directors
In 1980 Somnath Sen moved to the Bay Area immediately after graduating from Northwestern University, Illinois. He was warmly welcomed by the seniors of the Bay Area and enfolded in the then tightly knit Bengali community. He was the President of Bay Area Prabasi in 1981-82. As an affable member Somnath continued to volunteer for many years in this organization and witnessed the Bengali population grow through the last few decades. He maintains a strong community connection with seniors and new younger families in Bay Area Prabasi. He continues his extensive career in the semiconductor industry. Being an avid golfer, – tennis, swimming, hiking & biking are his other hobbies, which help him stay connected to friends, besides his culinary talent.
Dr. Prasanta De
Member of the Board of Directors
Dr. Prasanta De is an architect and has been leading designs for 20+ years of optimized Networking, 5G Wireless, and Compute related silicon and systems deployed across the world powering major communication and compute infrastructures. In addition, he also led teams in the areas of advanced linear/non-linear/adaptive control systems, robotics and neural networks for 5+ years. He received his D. Sc. in Electrical Engineering from Washington University, St. Louis, MO. He is instrumental in teaching/training fellow engineers at work in the areas of emerging technologies in very high-speed connections (SerDes), memory systems and very high-current power systems essential for the robust state-of-the-art 5G/Networking/Compute infrastructures.
As a Bay Area Prabasi's member, he strongly believes in the Prabasi's vision in creating an environment where the community members, including the 1 st generation kids, are encouraged to follow their passion for the greater good of the community encompassing individuals from all walks of life. These noble efforts are likely to address the food-insecurity, and access to the education in the greater Bay Area communities and the communities in India. Dr. De is passionate about helping individuals discover and develop skills using the individual's life experiences, often deemed insignificant by others, to make best of their lives and succeed in their endeavor. He is also passionate about coaching parents and kids in navigating pathways for kids' K – 12 journey and beyond.
Mr. Abhijit Datta
Member of the Board of Directors
Abhijit Datta is a Sr. Architect and a Subject Matter Expert (SME) in his domain at the leading company driving the technology of GPU, Supercomputer for AI/ML/DL, and Self Driving Cars etc. He has deep ties with this community and continues to serve in different capacities.
He is often engaged in helping food drives, assisting at cultural events, leading Boy Scout groups, and coaching Lego Robotics. He successfully bridges his proud Bengali, Indian heritage with mainstream living. He has lived abroad for over three decades, holds a Master of Electrical Engineering degree from the National University of Singapore (NUS), this expertise transferred to his current work.
He along with his family has been a long-time Bay Area Prabasi member while supporting other similar local organizations, always aiming to serve the broader community. He shares Bay Area Prabasi's focused mission and leadership views. With an increasing Bengali population in the Bay Area, our community has reached a critical mass now to greatly benefit from a permanent physical address of our own. A place for meeting of the minds and spending quality time together expanding our horizon. A place where the outreach can be amplified, our ethnic identity enhanced. This is crucial for the next generation, where they can bring their peers for exchange of cultures, while secured in their own identity.
Dr. Jayashree Ray
Member of the Board of Directors
Details coming soon
Ms. Urmi Chakraborty
Member of the Board of Directors
Details coming soon
Mr. Srijoy Aditya
Member of the Board of Directors
Details coming soon