Helping Bengal Artisans – Sharbari Datta Studio
Sharbari's Studio and Prabasi Partnership – members get a 20% discount on all purchases
The name "Sharbari Datta" needs no introduction among Bengalis and Indians who have even the slightest eye for fashion. While best known to the world as an acclaimed designer of men's ethnic wear she was also an artist, dancer and entrepreneur. 
Sharbari burst on the fashion scene in the early 1990s with her path-breaking designs for menswear. At a time when the men's fashion world was limited to bleak stripes and checks with at most a paisley or a floral tie, Sharbari carved out a new path for herself with her work. She saw herself as a "fashion revivalist" who felt that adherence to the dress code of the West had led to the stagnation of men's fashion in India. Sharbari is believed to have been one of the instrumental figures in reviving ethnic designs in men's clothing in the country. 
Her list of patrons and clients include the likes of Kapil Dev, Sunil Gavaskar, Sachin Tendulkar, Amitabh Bachchan, Prasenjit, director Rituparno Ghosh; and artists like M.F. Husain, Manjit Bawa, Bikash Bhattacharjee and Ganesh Pyne. She had once said that the fact that great artists appreciated her designs was her biggest sense of achievement.
A Collage of Indian celebrities in Sharbari Datta creations
The world lost this talented designer and woman entrepreneur suddenly in September 2020, at a time when her studio was already struggling because of the pandemic. Since inception, the studio had been run by a triumvirate – Ms. Datta herself, with her son Amalin Datta who was her co-Creative Designer and her daughter-in-law, Kanaklata Datta, the Managing Partner with the business acumen. However she had been the face of the brand, and the sudden demise combined with the effects of Covid-19 dealt a severe blow to Sharbari's Studio and as a result, the workers and craftsmen suffered. To stay true to Sharbari's ethos of standing by her workers, Amalin and Kanaklata reached out to Bay Area Prabasi to extend our support during these trying times. They are the ones carrying her legacy forward, ensuring her fashion sensibility survives beyond her time.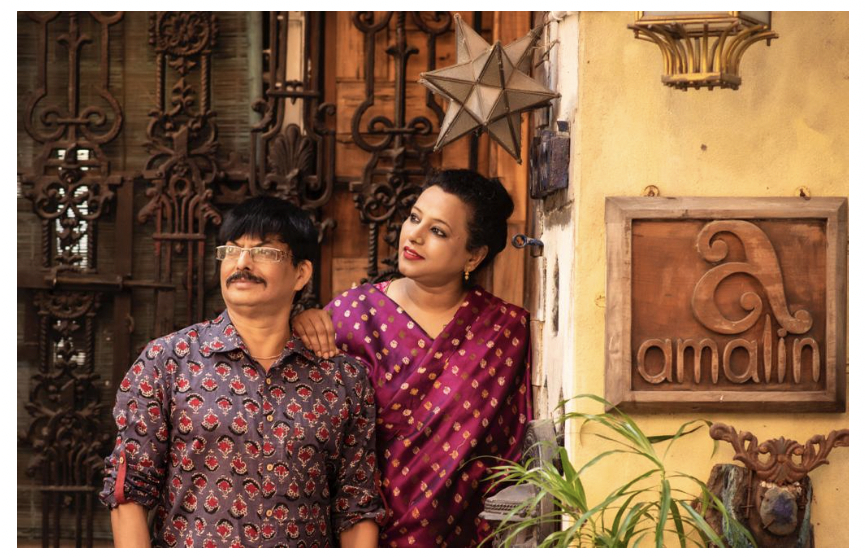 Amalin and Kanaklata Datta in front of their Kolkata Studio on Broad Street " Amalin"
At Prabasi, we are committed to helping causes related to Bengal and Bengalis all over the world. Consistent with that philosophy, Prabasi decided to extend financial sponsorship to Sharbari's Studio – it's a multi year partnership aimed at supporting the traditional garment workers and weavers in Rural Bengal, ensuring that this art-form, honed and cultivated over generations can be preserved. 
The following video showcases the work of Sharbari's Studio and the impact it has on the lives of these craftsmen.
As a Prabasi member, while you can get a 20% discount on every item you buy at their NABC 2022 Booth, you also have the satisfaction of knowing that your purchase is contributing to preserving this craft in Bengal. For those not attending NABC, Sharbari's Studio will be holding an exclusive exhibition of their products in the Bay Area on July 7th, Thursday from 5 to 10 pm at ICC Milpitas. You are invited to attend and pick out some stunning pieces for an upcoming celebration or festivity. Furthermore, on your next trip to Kolkata, please visit their Studio "Amalin" (40/1A Broad Street) where Prabasi members can avail of the same 20% discount. 
Let's all join hands to preserve the traditional arts and crafts of our motherland and have our men look sharp and fashionable in the process!